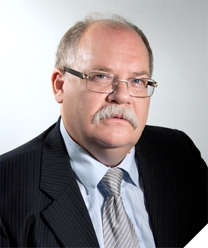 Glukhov Sergey Y., Vice-President, President of Association Six Sigma
Laboratory on deployment of modern analysis and improvement concepts (LabDMAIC) for business processes of public and private companies, public enterprises and state government bodies.
United Consultants FDP participated in foundation of Association Six Sigma Russia – major methodological center for the deployment of Six Sigma and Lean Six Sigma technologies in Russia.
Since year 2004 United Consultants FDP provide funding for the Laboratory on deployment of modern efficiency systems and business process improvement based on such world-known technologies as Six Sigma, Lean Production, Theory of Constraints and Balanced Scorecards. The Lab has acquired significant experience in implementation of these technologies in Russia and was at the foundation of most major improvement projects in Russia.
Today our Lab offers the entire scope of services, related to improving efficiency of manufacturing and managerial operations of companies and enterprises based on the most advanced methods that have proved themselves all around the world.
Global audit of the efficiency of company operations.
Analysis of various areas of company operations, starting with the core operating processes and up to all of the supporting processes. Our specialists will work closely with the company management and major internal services, using the most advanced methods of data analysis. Such diagnostics allows to detect the efficiency reserves – additional financial resources that can be released by tuning up business processes. Such reserves have three categories of complexity: easily achievable, moderately achievable and hard-to-achieve. As a result of such audit, the client receives a Report on potential efficiency reserves.
Implementation of Lean Six Sigma in companies to achieve the full scope of potential reserves, detected during the audit.
This service includes redesign of client's Production system and deployment of the structured approach to business process improvement, which shall allow the company to achieve the detected efficiency reserves and to step up to the new level of competitiveness.
Certification of Lean Six Sigma deployment.
This service includes the confirmation of the quality of Lean Six Sigma deployment at the company, which is often required by the foreign partners of Russian companies. Today it is especially important for the Russian automobile component manufacturers. Except for the certification, specialists of our Lab will provide consulting support on implementation of the required improvement projects and necessary training of client's employees
Training of Lean Six Sigma professionals of all levels: Yellow, Green and Black Belts, Sponsors and Champions.
Taking into consideration financial and time expenses, the most efficient way for the Russian companies today is the accelerated training of Lean Six Sigma Green Belts, who will receive sufficient amount of knowledge and practice to be considered for the beginning Black Belt level. This allows the trained specialists to quickly start working on actual improvement projects and even to manage them. Since the lack of experienced professionals is the most significant obstacle for Lean Six Sigma to widespread in Russia, our Lab together with Association Six Sigma has developed a unique training course "Turbo Lean Six Sigma Green Belt", which allows to train your employees and give them necessary applied tools in the shortest time possible.
Last but not least, the LabDMAIC of United Consultants FDP is happy to offer Lean Six Sigma awareness-raising seminars for executives and professionals of the companies in which we explain the basic ideas of Lean Six Sigma technology and its advantages for the potential client. We already held such events at some of the major companies, including Gazprom, Lukoil, Tatneft, Rusal, Alfa-Bank, MTS, Vympelcom, John Deere, Mars, Johnson&Johnson, AutoVAZ, JSC NPO "High-Precision Systems", Russian Technologies – Machine Building (RT-Machines), Vympel, Nissan, etc.